Just as the Monterey Bay is in the center of the iconic California coastline... SMOOTHJAZZ.COM is at the heart of the global Smooth Jazz community; the hub for this lifestyle music genre. Rustic yet cosmopolitan, sophisticated yet relaxed. We entwine the on-line, multimedia music platform with its own unique musical gathering at Quail Lodge & Golf Club in Carmel.
California radio personality and SmoothJazz.com founder, SANDY SHORE has envisioned an annual retreat where artists and audiences come to play, relax and get inspired in Carmel Valley's wine country.
Deconstructing your typical festival event, The Jazz Weekender proposes a new way to experience music... a California-inspired, music destination in a rejuvenating environment with comfortable, cushioned chairs offering concierge seating, high-fidelity audio, and world-class performers paired with California wine, food and surroundings on a 850-acre paradise!
The Weekender rolls out with a sexy night of sax on Valentine's Day featuring smooth soul star, BONEY JAMES.
Hosted by world-renowned bassist and founding member of the jazz super group Fourplay, NATHAN EAST (one of the most recorded bass players in music, on over 2,000 recordings) will serve as musical director, curating custom sets of nightly performances featuring special musical guests BOZ SCAGGS, MAYSA, RICK BRAUN, VINCENT INGALA, LINDSEY WEBSTER, PAUL BROWN, JAZMIN GHENT & SYLVIA BENNETT with Nathan's dream team band of A-Lister recording & touring musicians!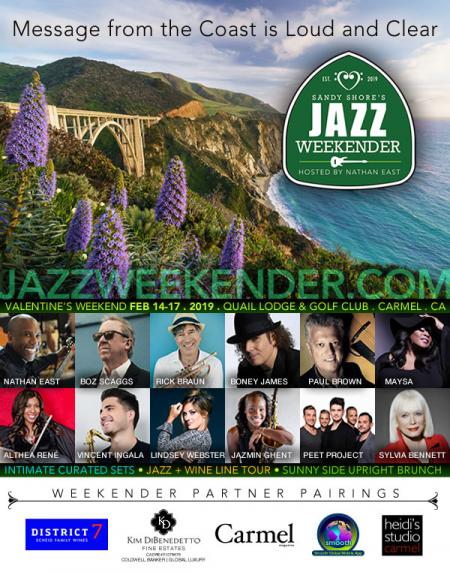 Each night we will trip the light fantastic with the hitmaking boys from Budapest, PEET PROJECT performing in Quail's Covey for our Late Night After Party.
Friday we invite you to play a round with Smooth Jazzers (artists and guests) in a friendly 18-hole tournament on Quail's world-class golf course or work on your short game and join us for Putting with Peet on the Lodge's 9-hole putting course.
Saturday will take you deeper into the valley with our luxury Jazz & Wine Line bus tour to several area wineries where you will taste local wines grown and harvested in Monterey County while enjoying live music at each stop from Jazz Weekender recording artists.
Sunday we say so long with the bountiful Sunny Side Upright Jazz Brunch with Nathan East & Friends at the Covey.