Broadcasting from the coast of California to a Global community since 2000. Tune-in, get inspired, adjust your coordinates. Smooth. Global. Living.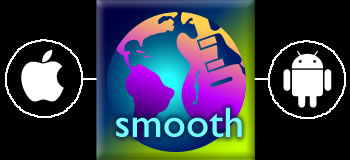 The World's first on-line Jazz radio station, SmoothJazz.com Global, presents a Smooth music and Lifestyle App offering two handcrafted radio stations, an exciting travel portal featuring the hottest Jazz Festivals and Music Events around the world, plus a new music Listening Loft, weekly Airplay Charts, and the latest music videos all with convenient click-to-buy buttons for purchasing music, event tickets and booking travel.
TIP : Before you download our new "Smooth" app, we recommend deleting our old app first and doing a clean install. Click the Download Links below or search "Smooth Global" in the App Store or Google Play Store.
App Support : app@smoothjazz.com • App Development : AppStructors.de