Are Multicasts Radio stations?
Multicasts are not exactly individual Radio Stations. They are essentially cloned relays of one main stream or broadcast, sometimes using different logos or websites to appear as unique stations, but are more like "pop-up" or "shell" stations used to grab more potential listeners on various streaming platforms like Radionomy, iHeart, Tune-In, Radio.net or Shoutcast. 

Spread across multiple platforms, the average listener may perceive Multicasts as totally separate Radio Stations rather than just one broadcast being delivered through many different brands. In some cases these Multicasts are simply different bit rates of the Main stream.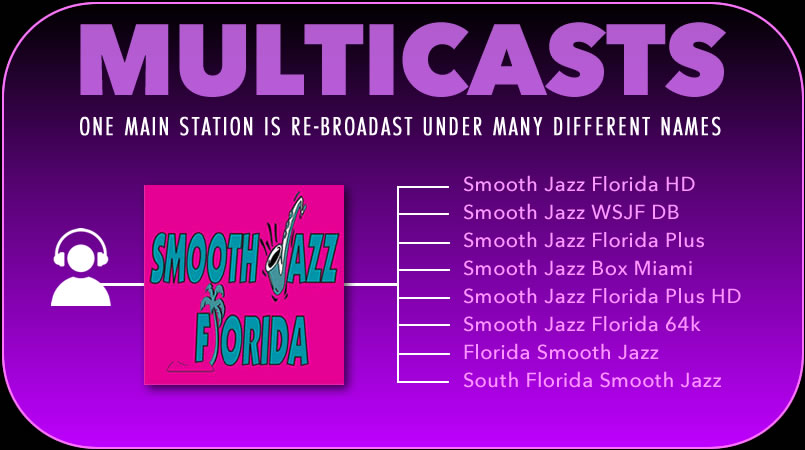 Similarly, when cloned Radio Stations are displayed on a Radio Promoter's Station Contact List or as part of a Radio Network, they may be perceived by Artists as independently programmed Radio Stations, which they are not.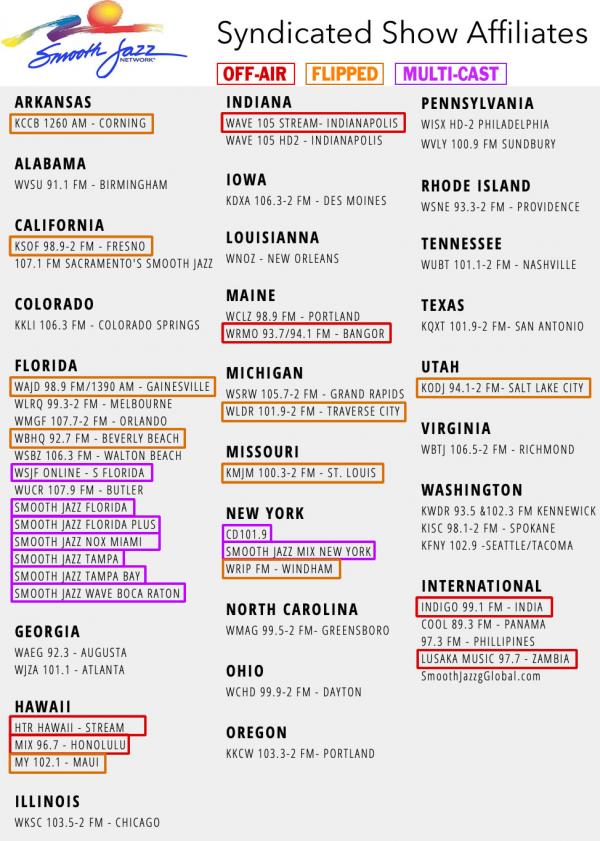 How Do Multicasts affect radio charts? 
There are no inherent issues with Multicasts as part of a Radio Network, until they interact with Chart systems and attempt to present as more than one broadcast.
Too many streams playing the same Playlist programmed by ONE Network owner will have an unfair influence over a Chart and create a rollercoaster effect in regards to Adds and Drops.
To avoid this, SmoothJazz.com's Chart system, as well as notable Industry Charts, offer reporting protection against Multicasts, Syndicated shows and Network Station Affiliates.
Please Note: Paying for Airtime on Multicasts will not drive your music up the Charts as the Network only has reporting status for a limited number of unique stations/streams.
Airplay vs. Listenership
Airplay is great, but Listenership matters most! Even with all Network and/or Multicast streams combined, they rarely deliver as many listeners as heritage Internet broadcaster SmoothJazz.com Global.
Average Quarter Hour represents the number of people listening to a station during any given fifteen minute period. Below AQH was sampled in November 2020. 
 


Network Multicast Example - From 8 Stations come 31 Clones
Give it a try! Click each Stream to hear duplicates of each Main Station. 
| | | | |
| --- | --- | --- | --- |
| | | | |
| | | | |
| | | | |
| | | | |