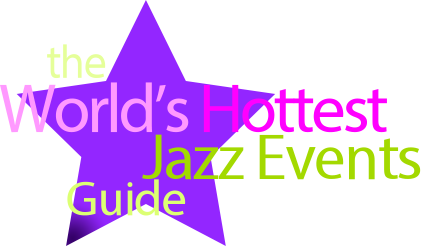 World's Hottest Jazz Events Guide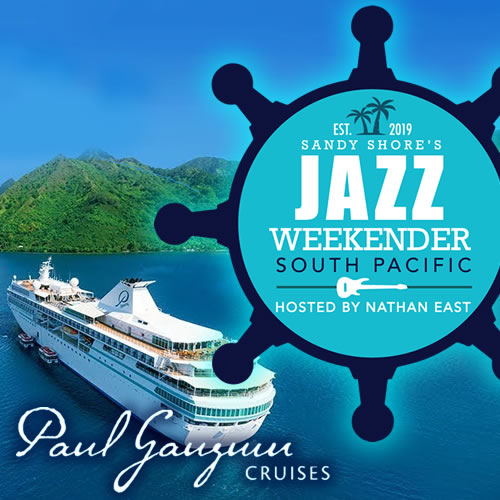 Jazz Weekender South Pacific Cruise
Papeete, Tahiti, French Polynesia
SANDY SHORE expands her JAZZ WEEKENDER with event host NATHAN EAST to a week in French Polynesia. Fully Chartering the luxurious m/s PAUL GAUGUIN cruise ship (only 300 passengers) with an Exclusive Reunion of  FOURPLAY w/ BOB JAMES, NATHAN EAST, HARVEY MASON plus ROBBEN FORD! Also on board KIRK WHALUM, RAY PARKER JR, MAYSA, MICHAEL THOMPSON, JUSTIN LEE SCHULTZ EXPERIENCE, SYLVIA BENNETT and M'LYNN, PLUS the World's Most Dangerous After Party with PEET PROJECT & DJ GARY B! 831-649-4292 JazzWeekender.com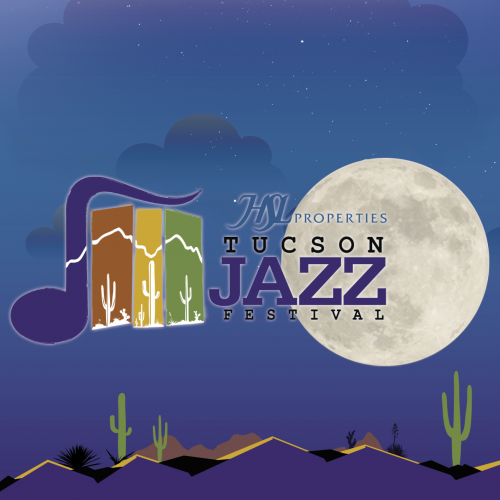 The premiere jazz festival in the Southwest, featuring a sensational line up of jazz greats from around the world including LEE RITENOUR & DAVE GRUSIN, HERB ALPERT & LANI HALL, DIANNE REEVES, JON BATISTE and many more! The two-week event presents multiple performances in venues across the city, beyond the concert hall, with events such as the outdoor Downtown Jazz Fiesta (free to the public), pre-show street concerts, a Jazz Jam, food/wine/jazz special. A musical experience not to be missed! TucsonJazzFestival.org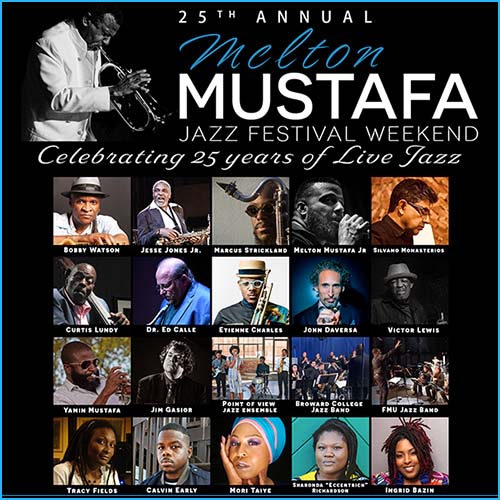 Melton Mustafa Jazz Festival
Celebrating 25 years of the "Best in Jazz" in South Florida! This 3-day festival will feature GRAMMY WINNERS DR. ED CALLE and JOHN DAVERSA, as well as Trinidadian Jazz Trumpet Legend ETIENNE CHARLES, VICTOR LEWIS, BOBBY WATSON, CURTIS LUNDY, MARCUS STRICKLAND, SILVANO MONASTERIOUS, JESSE JONES JR. and many more. MeltonMustafaJazzFestival.com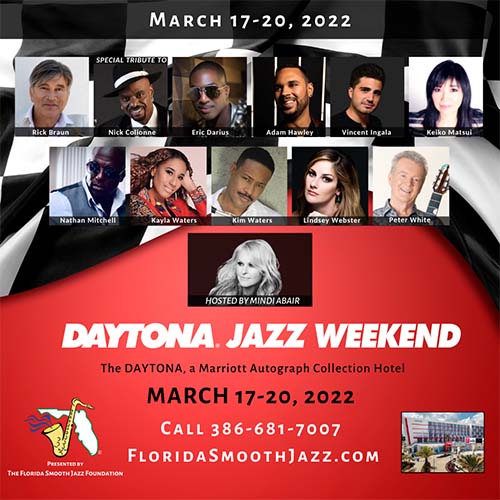 Florida Smooth Jazz Foundation
Daytona Jazz Weekend - Hosted By Mindi Abair
Daytona Beach, Florida, USA
MINDI ABAIR hosts the 2022 event with special guests RICK BRAUN, ERIC DARIUS, VINCENT INGALA, KEIKO MATSUI, ADAM HAWLEY, NATHAN MITCHELL, KAYLA WATERS, KIM WATERS, LINDSEY WEBSTER, & PETER WHITE, plus an All-Star Tribute to NICK COLIONNE at The Daytona Hotel in Daytona Beach, FL. Price includes Concerts, Hotel accommodations, Dinners, Brunches, and Activities at the Daytona International Speedway. 
FloridaSmoothJazz.com 
386-681-7007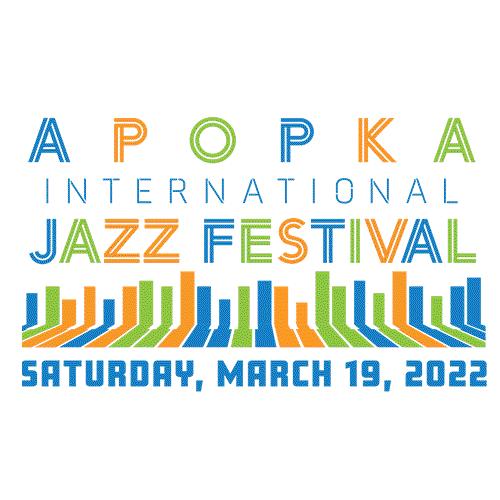 Apopka International Jazz Festival
Apopka International Jazz Festival is hosting their 2nd Annual Event located on the outskirts of Orlando, FL.  This one day event will be featuring JEFFREY OSBORNE, HIROSHIMA, Grammy Award Winner, NESTOR TORRES, DEE LUCAS with special guest LORI WILLIAMS. Join us for great music, wonderful people and good food! ApopkaInternationalJazzFest.com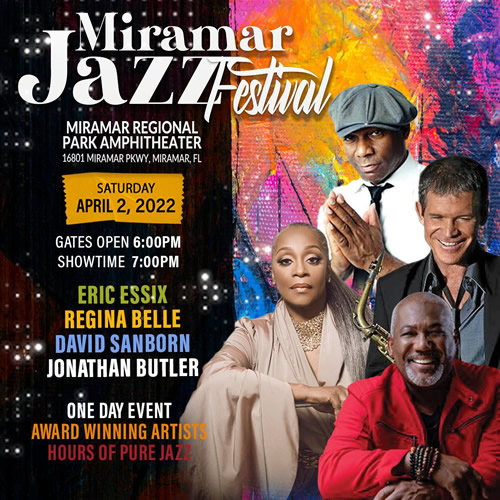 An immersive music festival experience on the Florida coast combining natural ambience with boundless artistic creativity. Smooth Jazz and Classic R&B starring Grammy-award winning saxophonist DAVID SANBORN, world-renowned South African singer/guitarist JONATHAN BUTLER, Grammy-award winning vocalist REGINA BELLE, and Smooth Jazz Guitarist ERIC ESSIX! 

Get your tickets now at TicketMaster.com!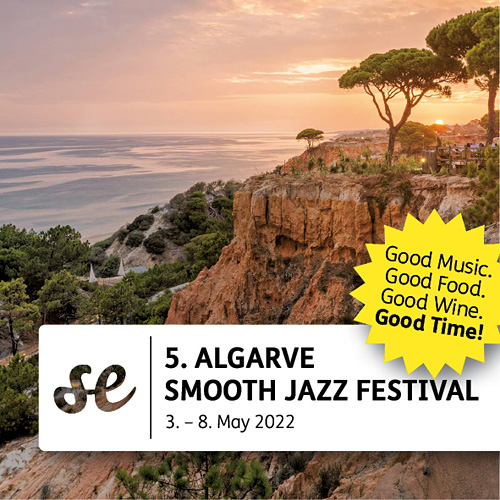 Smooth Entertainment presents
Algarve Smooth Jazz Festival
Europe's Soul, Funk & Jazz Party in Portugal on the stunning cliffs of the Algarve at Pine Cliffs Resort featuring PETER WHITE, MINDI ABAIR, PIECES OF A DREAM, EVERETTE HARP, ERIC DARIUS, JONATHAN FRITZÉN, GREGG KARUKAS, KEN NAVARRO, FOUR80EAST with more artists to be announced soon!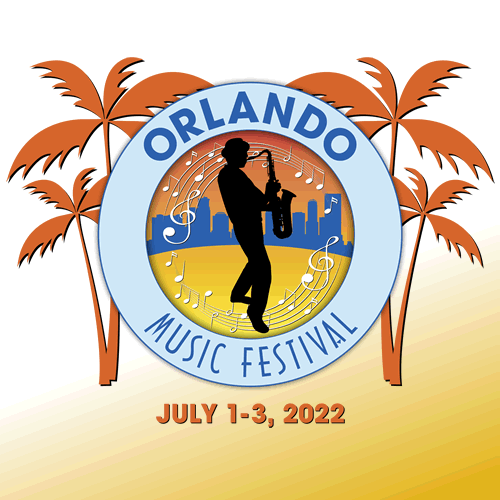 Get ready for the inaugural ORLANDO MUSIC FESTIVAL! Experience the ultimate music extravaganza with Hall of Fame and Grammy Award winning Smooth Jazz and R&B artists including BONEY JAMES, BRIAN CULBERTSON, DAVID SANBORN, PETER WHITE, RICK BRAUN, EUGE GROOVE, PIECES OF A DREAM, RICHARD ELLIOT, SPYRO GYRO, LINDSAY WEBSTER, VINCENT INGALA, MARION MEADOWS, ADAM HAWLEY and More! Do not miss this amazing 3-day event!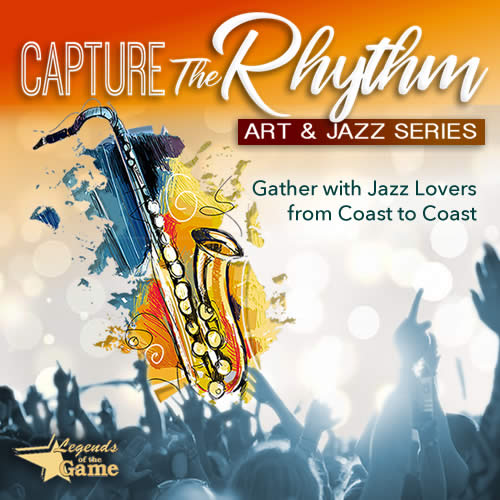 Capture the Rhythm Art & Jazz Series
Capture The Rhythm Art & Jazz will feature Coast to Coast, World-class Concert events in 2022 at Premier venues in exciting cities featuring some of the most popular Smooth Jazz and R&B recording artists! SEP 24th EUGE GROOVE performs with Special Guest JULIAN VAUGHN at the Miller Theater in Augusta, Georgia. Tickets ON SALE NOW!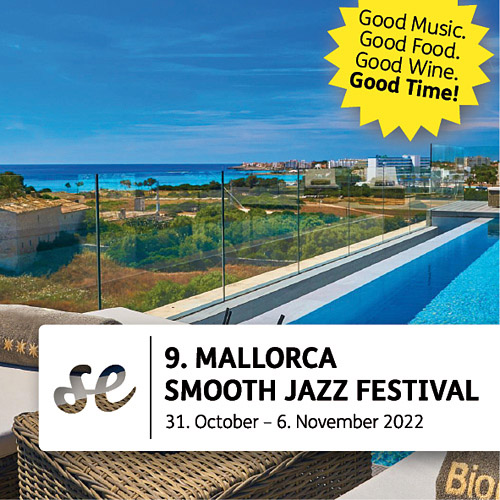 Mallorca Smooth Jazz Festival
The only Smooth Jazz festival in the European Mediterranean returns to at the 5-Star Protur Biomar Sensatori Resort in SaComa, Mallorca,Spain featuring the biggest and most successful international stars of the Contemporary Jazz scene including ERIC MARIENTHAL, DOWN TO THE BONE, BRIAN SIMPSON, MICHAEL LINGTON, DAVID BENOIT, PAUL TAYLOR, BOBBY LYLE, BLAKE AARON, TOM BRAXTON, PHIL DENNY and more to be announced!