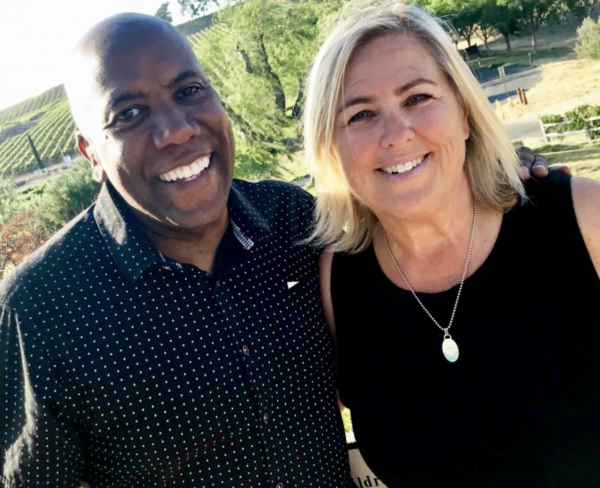 Love is in the air! Let the celebration begin! If you're going to do something exceptional with a special someone to celebrate Valentine's Day, you've probably already made some plans. Right? Well, hopefully you've made them for the inaugural Sandy Shore's Jazz Weekender music and lifestyle festival being held through Sunday at Quail Lodge in Carmel Valley. There should still be tickets to most of the events available through www.jazzweekender.com or www.smoothjazz.com.
Hosted by bassist extraordinaire Nathan East, the concert portion of the celebration has been meticulously curated by Sandy Shore, a name synonymous with contemporary jazz throughout the world. Although if you've been around the Peninsula for awhile you probably recognize her name from the days she was a DJ at smooth jazz radio station KXDC, or more likely from her highly successful concert productions that include Concerts by the Bay and the Indian Summer Music Festival.
This isn't your standard music festival though. This is an intimate gathering of people from as far away as Europe coming to spend a glorious four days enjoying not only the talents of big name artists like Boz Scaggs, Boney James or Rick Braun, but to discover fast rising music stars that Shore has chosen and nurtured through her powerhouse online radio station/music marketing business SmoothJazz.com. Be sure to check out her App online Smooth Global.
The expertise that she and her team bring to this production shines in every aspect, from the details of the concert experience to the lifestyle excursions, like the "Jazz & Wine Line," a bus that travels between local wine tasting rooms where live music heightens the mood along with the wine. And the "Play A Round with Paul Brown and Rick Braun" or the "Putt with Peet Project" golf gatherings.
When Shore's brand became global, she started getting contracted by these lifestyle jazz events all over the world. One of them is the Mallorca Smooth Jazz Festival where she's partnered with the folks on the Spanish island for nine years. Her local beginnings have come full circle, and this local event showcases everything she's been hard at work developing and promoting for the last 15 years, ever since retiring Sandy Shore Productions. Although the Pacific Grove resident is often spending time in some glamorous location abroad, appearing to be having a blast, she, like most in the entertainment industry, puts in long hours sewing up the details and sweating bullets in order to meet a deadline.
"It was back around Thanksgiving 2017 when I was driving out Carmel Valley, instead of by the ocean, reflecting on how pretty the wine country is," she said about her initial spark to bring home what she's been doing elsewhere. "I was thinking something more rustic, more deconstructed. I like that word, deconstructed. Because what we're doing is not a regular festival. Not like  having a set change between acts, now there's a break, next there's this artist coming to do the same set he or she just did somewhere else. I wanted to bring that clever idea of a lifestyle festival to our own community. But not just the same. I talked to Nathan and said, 'I really want to do this with you.' Our paths have been crossing a lot these last several years. In fact in Mallorca was one of them."
Boz Scaggs will be one of the artists at Sandy Shore's Jazz Weekender music and lifestyle festival this weekend. (Photo by Chris Phelps)
"My friendship with Sandy dates back to the 90s when she promoted concerts in Monterey," East said. "I always enjoyed performing there with our contemporary jazz group Fourplay and was genuinely impressed by her passion for music, kind nature and vision for putting concerts together in such a beautiful setting."
Shore and East work together in a number of ways, supporting each other through the radio and concert side of the music business. East is one busy man, probably the most recorded bassist through his session work in support of other major artists as well as his own solo career. He's Eric Clapton's bassist and when Clapton calls, he's there. So to have him available to host this event, well, let's just say Shore has pulled off a major deal.
"My Band of Brothers, which includes my youngest brother James East, it's truly a brotherhood with Steve Ferrone (Tom Petty, Bee Gees, Average White Band) and Greg Phillinganes (Stevie Wonder, Michael Jackson, Quincy Jones) that spans nearly four decades," East said. "We have traveled the globe together numerous times in various musical configurations such as Eric Clapton band, Quincy Jones, Montreux Jazz Festival House Band and to this day absolutely love playing together! The camaraderie and fellowship is very special. I'm looking forward to all the new musical collaborations that will take place at Quail Lodge in that unique intimate setting and a festive most memorable Valentine's weekend in one of the most romantic places on earth."