Hello Jazz Weekender!
We're looking forward to seeing you in two weeks at Quail Lodge in Carmel for Sandy Shore's Jazz Weekender hosted by Nathan East featuring performances from Boney James, Boz Scaggs, Maysa, Rick Braun, Paul Brown, Vincent Ingala, Peet Project and many, many more!

This letter will provide you information regarding event timing, tickets and miscellaneous items that we thought you might like to know prior to your arrival!

Upon arrival you  will be  provided printed Jazz Weekender Schedules for all guests to navigate the weekend, so that you know what's going on and where it's going on, all weekend long!

TICKETS
Your Jazz Weekender Tickets will be waiting for you upon arrival. You will receive an envelope with your name on it, that will include your purchase receipt, tickets and wristbands for your selected concerts and excursion add-ons.

Your tickets will be available in two locations, in the Lobby at Quail Lodge, at the Jazz Weekender Welcome Desk, open 1:30PM - 3:30PM Wednesday, Feb 13 and Thursday, Feb 14; and at the Quail Clubhouse Jazz Weekender Welcome Desk at the entrance of the Peninsula Concert Venue, from 4:00PM - 8:00PM Thursday, Feb 14, Friday, Feb 15, and Saturday, Feb 16.

3-Day Jazz Weekender Pass holders will be receiving comfortable, fabric wristbands with a locking bead to use all weekend. If you want to take the wristband off at night, don't lock the bead down tightly so that you may slide it on and off, otherwise, you can wear it proudly all weekend so that you don't lose it!

Individual Ticket Buyers will be receiving wristbands for single concerts... also comfortable, and for one night only.

All concert attendees will be stopped going in and out of the concert venue for a wristband check, please be sure to wear them visibly.

HOTEL GUESTS
Should you have questions about your reservation for the Jazz Weekender prior to the event, please contact Paula Arnold at 831-596-6615 or by email at smoothtravel@smoothjazz.com, rather than call Quail Lodge directly. We have the rooming list and the inventory and can better serve you if you call us directly.

FREE PARKING
Quail Lodge offers Hotel Guests Free parking close to their rooms. 

Concert Only Guests may park at the Clubhouse (located a 1/4 of a mile from the main Lodge) for Free. Please follow event parking signs and do not park in the Members parking lot, thank you! You may also park in the open spaces near the Lodge for the complimentary, nightly After Parties.  

FREE SHUTTLE SERVICE : D7 Wine Wagon
For our Jazz Weekender Guests staying at the Lodge, District 7 Wines is providing you a complimentary shuttle service every 10 minutes from 4:15PM - 10:15PM between the Main Lodge and the Clubhouse Concert Venue! 

CONCERTS
The Concert Venue is located at the Quail Lodge Clubhouse, upstairs in their Peninsula Room. Seating is limited to 250 guests per show, with only 8 Rows of seating!

All seating is open, we will have ushers assisting you, however you can select your seating each night.

VIP Entrance is inside across from the Jazz Weekender Merchandise Table. This allows VIP Access to the First 3 rows of seating for our VIP Ticket holders.

PREMIUM Entrance is via Peninsula Veranda, to allow easy access to Rows 4 through 8.

VIP Reception (for VIP Ticket Holders only) will take place in between the two nightly concerts from 6:45PM - 7:30PM in the Clubhouse, across from the Concert Venue. 

Please be on time and enter the upper level reception room (Oak Room - via the Veranda) to meet Jazz Weekender performing artists and snap a quick pic before proceeding to the Garden Room for a complimentary glass of wine or beer and a nice selection of cheeses and nibbles, additional Jazz Weekender artists will greet you. Please note that we cannot guarantee that every artist will attend, but we know many will!

CONCERT VERANDA
All Concert goers will have access to the beautiful, partly covered outside deck that will have heaters and views of Quail's golf course along with chairs and tables with a Smoking area.

CONCERT SCHEDULE :
THURSDAY, FEB 14 : 5PM & 8PM 
BONEY JAMES + NATHAN EASTWELCOMES

FRIDAY, FEB 15 : 5PM & 8PM 
NATHAN EAST BANDw/Special Guests BOZ SCAGGS, MAYSA & ALTHEA RENE 

SATURDAY, FEB 16 : 5PM & 8PM 
NATHAN EAST BANDw/Special Guests RICK BRAUN, VINCENT INGALA & LINDSEY WEBSTER

FOOD, DRINK & FUN
There will be two cash bars serving wine, beer and cocktails during the Concert events. The Jazz Weekender Wine Sponsor is District 7 Wines serving Monterey County wines (from dirt to glass), while Alvarado Street Brewery will be available for craft beer fans to enjoy, in addition to a full liquor bar and soft drinks.  

Food will not be served at the Concert venue, however, just downstairs at the Clubhouse is Edgar's Restaurant which will be open nightly serving dinner with a full bar. Reservations are recommended on concert nights! Edgar's will also be available for lunch daily.

The Waypoint Bar and Lounge in the Main Lodge, will be serving food beginning at 5:00PM and staying open late for our nightly After Parties, serving gourmet pub fare until midnight. 

JAZZ WEEKENDER AFTER PARTIES 
Our After Parties are already notorious and they haven't even happened yet! "The Bad Boys from Budapest" (not really), Hungary's chart-topping PEET PROJECT will be our Masters of Merriment each night at the Waypoint Bar & Lounge in the Main Lodge at Quail, following the late concert, from 10:00PM until last call on Thurs, Feb 14, Fri, Feb 15 & Sat, Feb 16. Entrance to the After Parties is included in your Jazz Weekender Ticket or 3-Day Pass.

Expect to see Weekender performers sit in with Peet and his band as they play their radio hits and cool covers of favorite new music. The party will spill around the Covey, Waypoint and outside on the deck with fire pits (weather permitting).

For JAZZ WEEKENDER HOTEL GUESTS, Quail Lodge offers breakfast in the morning in the main Lodge at the Covey, as well as a coffee bar and baked goods at the Waypoint.

Directly across the frontage road from Quail (3 minute walk) is a very popular breakfast institution in Carmel Valley, The Wagon Wheel, we recommend that you venture over at least one of your mornings.

Just before the Wagon Wheel is another area favorite, Baja Cantina & Grill, serving some of the best Mexican food north of the border for lunch, dinner and weekend brunch, with a gorgeous patio deck for soaking in the rays on a beautiful Carmel Valley day and an incredible margarita menu.

We will follow up with another email soon with Lunch & Dinner recommendations and Must-See Monterey Peninsula suggestions to optimize your Jazz Weekending!

ADD-ON EXCURSIONS
We're nearly sold out for all of our Excursions, if you were thinking of joining us for the Valentine's Swoon & Sway Supper Club Dinner with Grammy-nominee Sylvia Bennett or the Jazz & Wine Line Luxury Bus Wine Tasting Tour to four area wine tasting rooms on Saturday w/live Smooth Jazz chart-toppers performing, or Golf A Round with Paul Brown on Friday morning, or the Sunny Side Upright Jazz Brunch with the Nathan East Trio on Sunday, we encourage you to book ASAP, as we are literally down to the very last tickets for each of these excursions! Book at www.jazzweekender.com or call 831-596-6615.

ADDITIONAL TICKETS
We have Premium Concert tickets available for all shows...  there's still room for you to invite friends, please note that there's a lot of buzz and we're selling briskly, so please encourage your people to purchase as soon as possible at www.jazzweekender.com. We still have 3-Day Premium Passes and individual concert tickets available. 

WEATHER 
The Monterey Peninsula is fickle in February... if it's sunny it will be magnificent! If it's rainy, it will be mystic! There's no bad weather... and the good news is that all of our events will be held indoors, however with clear skies, we'll be able to move outside during the After Parties and Brunch, so keep your fingers crossed.

We like to dress in layers on the California Coast... the temperatures are usually in the 60's during the day and lows can dip into the upper 40's but, mostly 50's. Compared to the rest of the U.S. we have very mild winter weather.  Pack some warmer clothes that you can peel off during the day for your day trips and adventures. 

DRESS CODE
Resort casual for the concerts... whatever makes you feel good and fits the relaxed but elegant vibe of our nightly events. During the day, jeans, athletic wear and casual clothes are perfect!
MORE INFO : Visit JazzWeekender.com | Call Smooth Travel @ 831-596-6615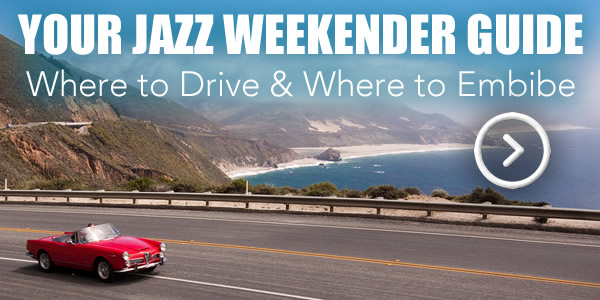 ---