Smooth Artist Interviews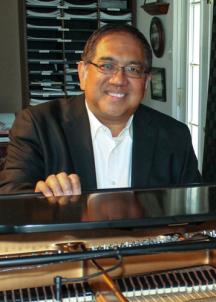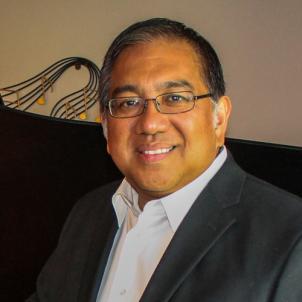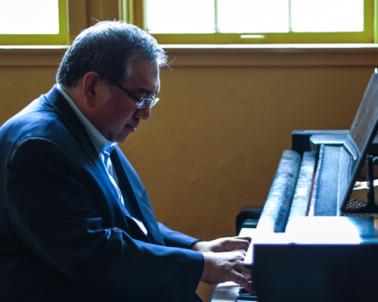 Your resume is impressive, and your debut release, TALK TO THE HAND is amazing, with the potential to catapult you into being a household word in the Smooth Jazz genre. Could you tell us about how this new album came to be, and what the process was to make it a reality after so many years of composing and performing?
Well, thank you for your generous remarks about TALK TO THE HAND; I hope that smoothjazz.com listeners like the album as well. TALK TO THE HAND was done on a fairly tight budget and I played, programmed, and recorded everything but the guitar parts in my home studio in Sacramento, CA. Ramon Stagnaro recorded the nylon string guitar parts in his home studio in Southern California; Bruce Kaldor recorded the jazz guitar parts in his home studio in Central Michigan. I sent each of them a two-mix of the songs and they loaded them up on their computers, tracked their parts, and then FTP'ed their guitar parts back to me and I flew their parts into my DAW. Once the tracks were done, I gave them to my co-producer, Ralph Stover, who is a talented mastering engineer. He did the final mix and generated the masters. The whole process of tracking, remote recording, mixing, mastering, replication, and getting final product was about 8 months. I was trying to push the project while holding down my day gig and working between business trips.
Through playing in bands, I've worked with a lot of talented musicians. I've also been blessed to play on a lot of albums and contribute to some great projects as a studio musician. But I've always believed that the ultimate goal for me as a composer/musician was to record, release, and promote a CD of my own music. It took a lot of effort for me to go from just talking about "doing a CD" to actually writing the material, putting the funding together, doing the recording, completing the album, and then following through with marketing and promoting the finished album. Each day, I had to set goals for what I was going to do to complete the project - write a new bridge for a song, fix a problem in an arrangement, split all drum parts to separate tracks, get all my licensing paperwork completed, schedule and complete a photo shoot, finish the album artwork, get the CD's back from the replicator, send a promo copy tosmoothjazz.com, update my website, MySpace, Facebook, etc. - and then do the work to reach those goals.
Creating TALK TO THE HAND has been a tremendous learning and growing experience in terms of defining what I'm about musically, what my statements are as a pianist and keyboard player, and what my commitment to being an independent artist is. I'm still on that journey and hopefully, I can put out some good music while I'm at it.
Growing up in a military family, with all the travel and relocation that tends to imply, how did you end up making the Sacramento area your home?
My father's last duty station before he retired from the military was San Diego and my family moved there in the summer of 1977. I got accepted into the music program at University of the Pacific and moved to Stockton in the fall of that year while my family stayed in San Diego. By the time I finshed school in 1981, I had decided to stay in northern California. The band I was playing in started touring right after school so I ended up living in Las Vegas for a few years. I came back to Stockton in the late 80s and got a gig as an audio engineer with an audio post-production facility. The studio gig was happening and most of our business was coming out of Sacramento, about 45 minutes drive north of Stockton. The studio owners decided to move the post-production facility to be closer to our clients in 1989 and that's when I moved to Sacramento. I've been here ever since.
Is there one song or performance you heard early in your life that you can remember as being the catalyst for your love of music?
There were two records that my parents had that I listened to all the time as I was growing up. One was a classical recording of Rachmaninov's Piano Concerto No. 3; it was the RCA recording with Van Cliburn and Kiril Kondrashin conducting. Rach 3 is a fantastic, expansive, emotional composition. I love the melodies and counter-melodies, all the beautiful dense harmonies and altered chords, and how the instruments work together in the arrangement. It's still my favorite orchestral piece, and one of the most difficult in the modern piano repertoire.
The other record was "Meet the Beatles", the Capitol Records release. The album was a monophonic recording that could be played on a stereo turntable. The vocals were on one side and the instruments on the other side, so if you wanted to sing along, you could pan over to the instrumental side and go for it. As a kid, I made my own solo piano arrangements of every song on that album; it was awesome! The writing covered a lot of styles; "This Boy" was this cool "neo doo-wop" ballad; "I Saw Her Standing There" had this bluesy rockabilly driving rhythm; "Not a Second Time" was this Phil Spector-like arrangement with a crazy "FM easy-listening" piano solo that I just loved. That recording has stayed with me.
During your studies at University of the Pacific in Stockton, CA, you had the opportunity to spend some time with UOP's most famous musical alumnus, Dave Brubeck. Is there one conversational tidbit or piece of advice you gleaned from Mr. Brubeck that has become a major inspiration for you and your musical career?
At the Conservatory, there was an ensemble requirement for my major, so I sang in the a capella choir for four years. My freshman year, the choir was to perform Dave Brubeck's "La Fiesta De La Posada" which is a Christmas cantata about Mary and Joseph's journey from Nazareth to Bethlehem and their search for lodging. The final rehearsals were with Mr. Brubeck, his conductor and arranger Russell Gloyd, the choir and orchestra, and a jazz trio. On one of the rehearsal breaks, I sat down with Mr. Brubeck and asked him "Do you have any advice for a theory-composition major?" meaning me. He told me to "always keep writing"; if I was to be a composer, I should always be writing. Even if the ideas weren't fully developed, I should be getting it all on paper.
And then he added "... and don't listen to what they tell you here (in school)". In a tongue-in-cheek way, I think he was telling me to find my musical direction, go towards it, and always believe in it. That has been a good piece of advice, especially now when dealing with album reviewers. I've already had one reviewer tell me bluntly that I was "contributing to the death of smooth jazz" by not being more edgy with the music on my CD, along with some other clever, backhanded comments. I appreciate that the reviewer was honest with me. TALK TO THE HAND is a snapshot of my music in 2008 and it's who I am at that time. Not everyone will like the album, but at least I have made a significant contribution to an art that I really love and I now have a common accomplishment with musicians that I respect.
Who are some of your current Smooth Jazz heroes?
My friend, Brian Culbertson, is certainly one of my SJ heroes; his sense of writing and arranging is awesome and I love his phrasing on the piano. Brian's music has serious groove; before meeting him, I already owned all of his albums. His latest album "Bringing Back the Funk" is incredible on many levels. Being able to perform BC's songs with him, whether in a two-piano setting or with his band, gave me a real sense of how deep his musicality runs. And Brian is a genuinely nice guy who has been very constructive and supportive of me and my album project. He's been a real brother to me.
Jeff Lorber is an artist that I've followed continually since the 70's, first with the Jeff Lorber Fusion and then as a solo artist. And I own all of JL's albums, on either vinyl or CD - my "Wizard Island" vinyl is safely put away with my other prized records. Jeff's playing is so fluid and I love the flow of his melodies and solos. And his music always has a serious groove. I learned a lot about playing in the pocket listening to Jeff Lorber albums. 'Just saw him in Sacramento, doing a meet-and-greet concert for his latest album "Heard That". It was just him, Nate Phillips on bass, and tracks from his Macbook Pro and the groove was bumping hard.
There are several great piano/keyboard players currently on the scene that I also follow, but Brian Culbertson and Jeff Lorber are my two top guys.
Moving forward, what ingredients do you think Smooth Jazz as a format needs to have to be successful and compelling?
I believe that if the format is compelling, then success will come as a result. There are many published and blogged opinions about this topic and all of them appear to be saying the same thing: we need more depth, innovation, and variety in the music that is being played. I agree that terrestrial SJ radio stations need to be freed from their programming shackles and be given the ability to play music that doesn't have to run a test marketing gauntlet before being considered. Given the current decline of terrestrial smooth jazz radio stations, I believe a change in their playlists could help draw listeners back and bring new listeners with them.
Internet radio's role in promoting smooth jazz has become more essential. Smoothjazz.com and its sister sites lead the group of internet radio stations that offer a wide variety of smooth jazz music to anyone that has internet access. With a global audience, these radio stations give artists like me a much-needed chance to be heard. I appreciate every internet radio station that has played my tracks.
As independent SJ artists, we must do our part to deliver compelling music to SJ radio stations. I think it's important to find the balance between pushing the creative envelope and staying true to who we are musically. To push the creative envelope more, I must raise the level of who I am musically to stay in balance. That sounds like a good challenge.