Smooth Artist Interviews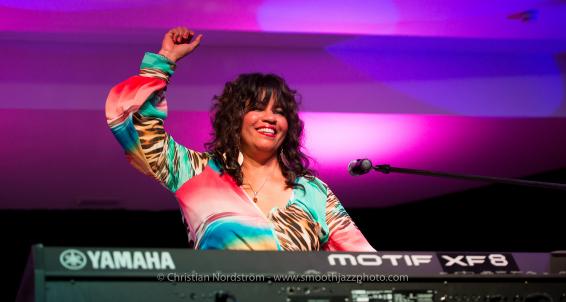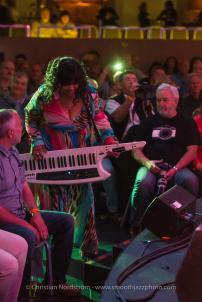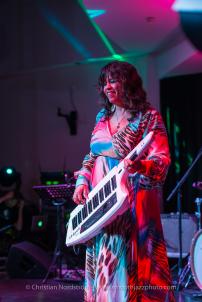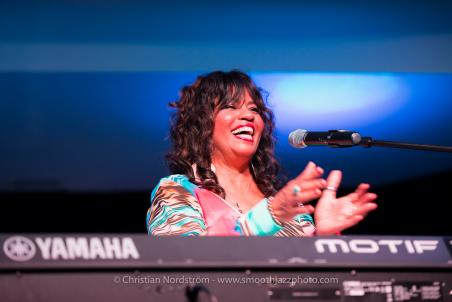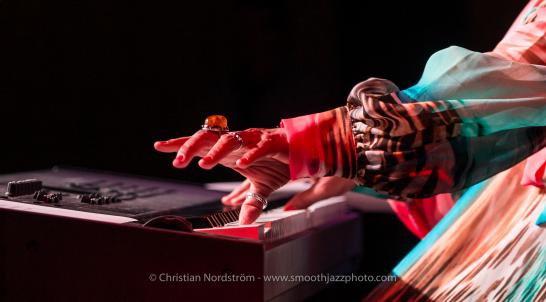 Your new album "Pearls" continues and in fact elevates your reputation of being a superlative composer and performer. How would you describe your intentions with this new project?
I really wanted to make a record that both expressed my musical ideas and style yet genre specific. I'm really big on arranging, so I tried to mix it up a bit, and let the music take its journey and develop its melodic content and toe-tappin grooves! Hopefully somebody will be inspired when they listen, hear something fresh and embrace what I call "Smooth Jazz with a feminine touch!"
You started playing piano at the age of ten as you were growing up in Philadelphia. Who do you consider to be your biggest influence as you moved to your first gig at fourteen and your higher education at Berklee College of Music?
My biggest inspiration at that time was Stevie Wonder! I saw him performing at the famous UPTOWN THEATRE in North Philadelphia. He was playing a Farfisa Organ as he sang & I knew right then that I could do it. I could play, make money, and tour. But I needed to know what the career musicians knew... sooo Berklee was a great choice. I had to learn 2-5-1; in musical terms, that's what makes for a strong jazz foundation.
You compose, produce and perform on myriad secular and Gospel music projects, plus you're a music educator with several instructional books on keyboard style and technique. Of all these pursuits, what gives you the most personal satisfaction and fulfillment?
Oh, that's a hard one. I love Gospel musical theatre and teaching is truly a joy too. Writing books is challenging, but the end result is great when a student really gets it. LIVE performances are just the best.
You've toured, performed, and recorded with truly a who's who list of World-renowned artists. Is there one gig so far that stands out to you as being perhaps a highlight to this point in your career?
I have several highlights... playing in NYC with R&B vocal groups BLUE MAGIC, THE STYLISTICS, and DELFONICS Show was a wow moment with lights & excitment. Flying to L.A. and auditioning with Morris Day from the hot 80's group THE TIME was totally surreal. Lots of money, meeting Prince, Jimmy & Terry was awesome. Working with Jermaine Jackson & legenary Bobby Womack, playing on all the major TV shows was realy something for me and my family. Now playing with one of the best guitarist in the world is more than I could have imaginined when I first started. Seeing my face on a CD is just the ultimate... just the best feeling of accomplishment!
In what direction would you like to see Smooth Jazz head as a format, moving forward?
Well everything about jazz in its inception has been about improvisation. Starting with an idea, developing it and moving on to higher heights. So Smooth Jazz is no different; it should and has to morph! Jazz musicians are organic and so is the music they play. I'd like to accredit the sound of Philadelphia with creating and successfully exposing the world to a new sound we consider to be Contemporary Jazz... with artists like Grover Washington, Dexter Wansel, Lonnie Liston Smith, George Howard and surely Ramsey Lewis at its helm, to name a few. We've had many variations on the Jazz scene... Cool Jazz, Be-bop, Fusion, Soul Jazz, Straight-ahead Jazz and now Neo-Soul. I'd like to see Smooth Jazz continue to grow with new artists bringing flavor from their life and musical experiences. I would love for Swing to take a more prominent role. Right now, the genre is more funky with the back beat, soulful & danceable. An intellectual Renaissance in Smooth Jazz would be an awesome and welcome experience...
What do you like to do for fun when you're not working?
When I'm not working, I'm not making any money! I love to garden, bowl, cook and read. I'm the Scrabble Queen!!!! Honestly, me and my Mom share the title.