Logo and Ad Usage Guidelines :
Our Logos and Print Ads may be used by our Clients and Marketing Partners or by permission only. Simply click on FOR WEB or FOR PRINT to initiate the download of the file. We only require that you to keep them looking good when adding our branding to your website, CDs or Promo Materials by following these guidelines below. 

FILE TYPES : All Logos are designed with transparent backgrounds and can be accessed via drag and drop or by selecting either link for FOR WEB (RBG 72dpi .PNG files) or FOR PRINT (CMYK 300dpi .PSD files). Please link them using suggested URLs below each one.
SIZING : Always size down, never size up. We provide our logos at larger than necessary sizes so that you can size down on your side to keep the images looking crisp and non digitized. 

PROPORTION : Nothing is more irritating to a brand than to see it's logo sized to a warped proportion, please keep our width and height sizing integral under all circumstances.
COLOR : Our colors are as integral to our branding as the logo itself, so please don't change the colors. 

CUSTOM DESIGNS : If you need an exact size or a version of the logo you do not see here, contact our Design Dept attn: donna-at-smoothjazz.com with any questions.
Smoothjazz.com Logos
smoothlounge.com Logos
SMOOTH*GLOBAL*LIVING LOGOS
SMOOTHTRAVEL + SMOOTH MOBILE APP LOGOS
MARKETING PARTNER LOGOS
Smoothjazz.com CHART BADGES
JAZZ WEEKENDER LOGOS
EVENT PROGRAM PRINT ADS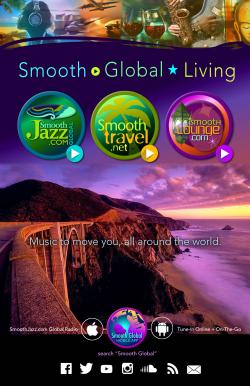 VERSION 1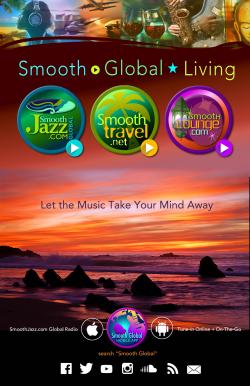 VERSION 2