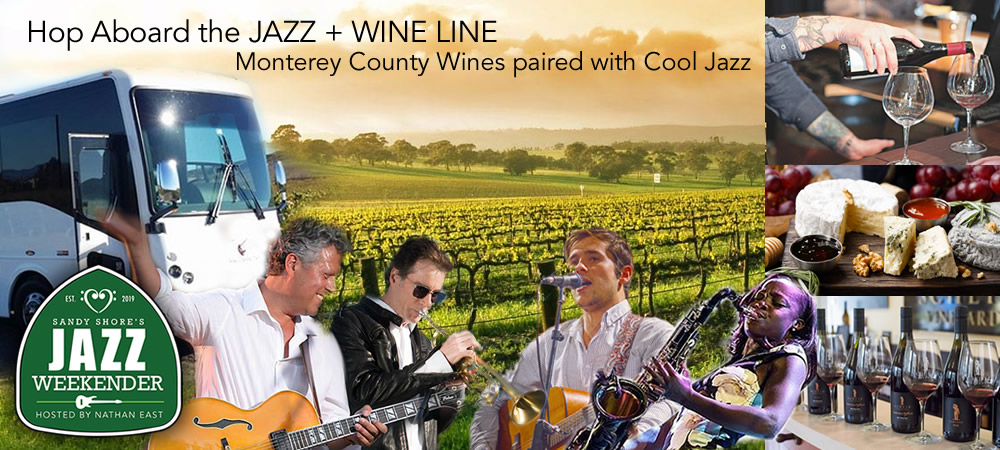 Jazz & Wine Line - Luxury Tasting Tour

Saturday, February 16, 2019 : Half Day 10:00 AM–2:30 PM
Enjoy being driven in a luxury coach bus along with a small grouping of fellow Jazz Weekenders to downtown Carmel-by-the-Sea and out Carmel Valley Village to sample some of Monterey County's finest wines along with progressive cheese pairings from Cheese Shop Carmel and Lula's Chocolates!
We'll be taking you to four popular tasting rooms in just over 4 hours. Each location will feature live music from some of your favorite Smooth Jazz recording artists including Double Grammy® winning guitarist/producer Paul Brown paired with trumpet/flugelhorn player Rob Zinn, plus rising star saxophonist, Jazmin Ghent and newcomer songwriter Joe Hurworth.
Jazz Weekender's Wine Sponsor, Scheid Family Vineyards will showcase their District 7 wine brand as well as their estate bottled wines at their tasting room in downtown Carmel, and we'll also be tasting at nearby Blair Wines Room… we'll spend about 40 minutes at each location.
In Carmel Valley we'll spend time on the beautiful grounds of Joyce Wines and Testarossa Wines in a beautiful location that will allow you to sample wines, listening to jazz, taste cheeses and play bocci ball!
We'll offer two buses running alternate routes, seating is limited. 
Bus One : Carmel to Carmel Valley
10:00 AM Depart Quail
10:30 AM Scheid / Blair
11:10 AM Blair / Scheid
12:00 PM Depart to CV
12:30 PM Joyce & Testarossa
2:00 PM Back on bus us to Quail
Bus Two : Carmel Valley to Carmel
10:00 AM Depart Quail
10:30 AM Joyce & Testarossa
12:00 PM Depart to Carmel
12:30 PM Scheid / Blair
1:15 PM Blair / Scheid
2:00 PM Back on bus to Quail
Please book your Jazz Weekender Room + Concert Experience package soon.
Contact Smooth Travel smoothtravel@smoothjazz.com or 831.596.6615.
SAT Feb 16, 2019 : 10:00 AM - 2:00 PM - $150 
BUY TICKETS HERE - Very Limited Availability