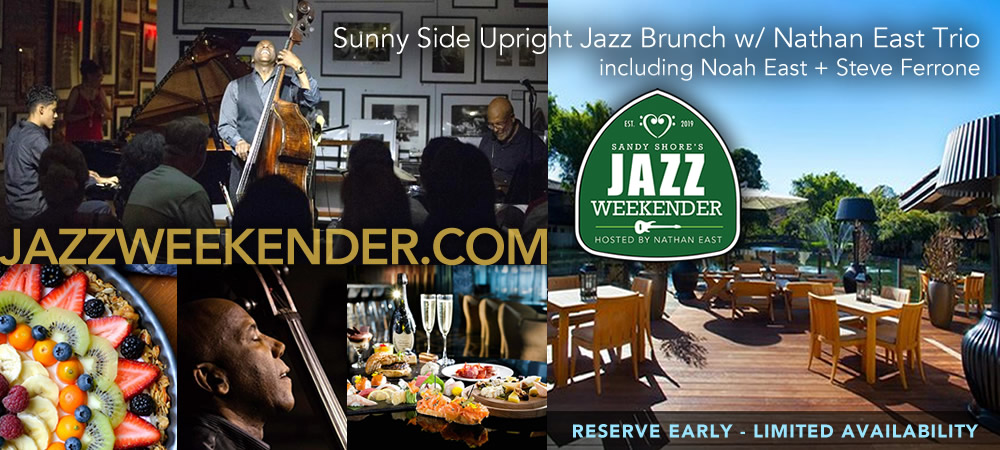 Sunny Side Upright Sunday Jazz Brunch with Nathan East Trio 
SUN Feb 17, 2019 : 12:00 PM - 3:00 PM - $150 
Wrapping up our four-day, California Jazz Jet-away, Weekender host Nathan East will be shifting gears with an intimate trio performance with his son, Noah East on keys along with renowned drummer, Steve Ferrone to deliver a percolating, jazzy set of music to accompany a bountiful brunch spread provided by Quail Lodge at their Covey Restaurant. 
Such a jazzy vibe will deliver the perfect Sunday soundtrack to wind down our Carmel gathering, with outstanding musicianship and invigorating improvisation, guaranteeing a unique experience in Monterey's Wine Country.
The California style brunch will feature delicious breakfast offerings including eggs, avocado toast, delicious cheeses & breads, Monterey Bay shrimp, fresh fruit and more!

BUY TICKETS HERE : Extremely Limited Availability!
 
Book Your ROOM+TIX PACKAGE or TICKET BUNDLE
Contact Paula Arnold @ 831-596-6615 | Smoothtravel@Smoothjazz.com